Military Friendly School
Military Financial Aid | Military Tuition Assistance | Active Duty and Reserves | Spouses and Dependents | Veterans


A Message from FHE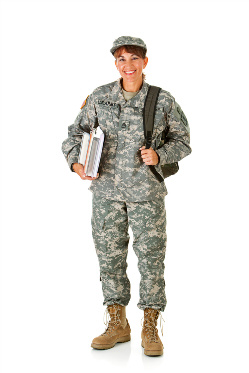 Greetings and Welcome! I know the difficulties in attempting to select a school and meet with your education officer to discuss a degree plan and military tuition assistance. In addition, integrating this with field exercises, war time and achieving mission critical tasks requires a lot of dedication.
We appreciate the sacrifices that our active duty, guard, reserves, veterans, spouses and military dependents make as they serve our country.


We pledge our best service to you, so that wherever you are in the world, you can be connected to the FHE Department of Military and Veteran Affairs through our committed teams.
We are proud to offer:
FHE Special Tuition Pricing for Veterans, Active Duty Military and spouses/qualifying dependents of all Active Duty, National Guard and Reserves
Acceptance of transfer credits for eligible military experience using the recommended American Council on Education's (ACE) guide
College Level Examination Program (CLEP) opportunities
FHE waived registration fee
Dedicated Department of Military & Veteran Services: We speak your language, so don't hesitate to contact us!
Dedicated Military Admissions Team
Dedicated Military Student Finance Planners
Dedicated Military Transcript Evaluation Group
Tutoring, Classroom and Technical Support
We have aligned our online programs, military and veteran affairs student support services, policies, pricing and procedures to address the unique needs of our military, spouses, dependents and veteran students.
If there is any way I can be of assistance to you during your FHE healthcare adventure, please let me know.


Sincerely,
Teresa Jones
Director of Military Affairs and Government Education
FHE Department of Military and Veteran Affairs
This email address is being protected from spambots. You need JavaScript enabled to view it.